Computers for Schools: Picking the Right Machines
Maryland | Baltimore | Columbia | Annapolis | Ellicott City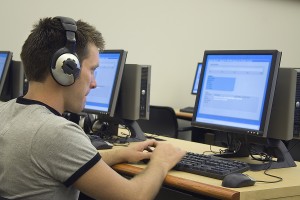 Are you looking for computers for schools in Maryland?
Technology plays an important role in our everyday lives, whether they're for business, education, or anything else, so it's important that you have the right kinds of computers on hand.
Choosing the right machines can seem like a daunting task, since computers aren't "one size fits all" and what's good for one student might not necessarily be good for another.
So how do you make sure that the computers you need for your classroom are perfect for your students?
Keep reading this page to learn more about computers for schools in Maryland and you'll see just what you can pick from to ensure that students from K-12 and beyond get what they need.
Would you like to tell us about the services you need right now?
Then pick up your phone and call us at 410-579-4508.
You can also contact us by clicking here and one of our representatives will be in touch
School Computers Throughout the Years
Whether you have young students who are just setting the foundation for computer literacy, or long-time students who are preparing to move on to the next stage of their educational careers, there are certain considerations that have to be taken into account when picking the right machine for their needs.
The Type of Machine
Ask yourself these questions to start.
Will the kids only be using the computers at school, or should they be able to take them home?
What kind of support do I have to repair the computers if something goes wrong?
Providing the answers to these kinds of questions will steer you towards the kinds of computers that you should provide; either desktops or laptops. From there, you have a foundation upon which you can build the perfect computer system for your students' needs.
Keep in mind that, while there are a number of fundamental differences between desktops and laptops, it all starts with portability and cost.
Laptops can be taken anywhere, but usually come at a higher cost. Desktops, on the other hand, may be more cost effective, but aren't as mobile.
Likewise, desktops are easier to upgrade and have a wider range of options in that regard.
Consider the Components
A functioning computer has a lot of different parts working together in order to make the machine function but, depending on how a student plans on using the computer, some components may need to be more powerful than others.
If your student is going to be using a lot of resource-heavy programs like Adobe Photoshop, or doing a lot of multi-tasking in general, than the computer will need more RAM than normal.
Likewise, if the potential for storing large amounts of information is there, then computers for schools will need bigger hard drives than normal.
Broader Concepts
When it comes to choosing the right computer, the above list contains some of the basics, but you will need to think beyond those. This is especially true for computers for schools.
Not only will you need to consider the components that make the computer run, but you will need to figure out how to make sure that the computers are always safe for students to use.
This can be done by taking steps to ensure that computers on your school's network include the right kind of security, are protected from viruses and other malicious software, and regularly undergo data backup to ensure that information isn't lost in case of unforeseen events.
It never hurts to be too careful when it comes to computers, whether you have a desktop or a laptop, since so much of modern work and life revolves around computer use.
By making sure that your information is always secure and protected, you can guarantee any computers for schools that you use will help students learn and grow for years to come.
Computer Services with DSR
When looking for computers for educational institutions, you want to make sure you have everything you need, and you can do just that with help from the professionals here at DSR Inc!
We know how important computers are for today's students, which is why we offer a variety of computer and network services that cover everything you could possibly think of.
By coming to us with your needs for computers for schools, you have the opportunity to make sure that your students' needs are met through expert insight in areas like:
The purchasing process
Hardware and software manufacturers
Warranties and theft deterrents
Technical support
Staff training on basic computer maintenance
Our computer technicians, who are fully trained and certified experts with a number of industry standard qualifications, will be able to help you with whatever you need, every step of the way.
You have nothing to worry about with DSR computers on your side.
Our business in providing computers for schools goes back over two decades, so we know what it takes to make sure that your students succeed academically, whether they are just starting out, or are stepping in to the realms of higher education.
They need computers to get ahead in an increasingly connected world, so why not go with the best choice possible in order to give them the best chance possible?
Contact Us Today!
Whether you need a few questions answered first, or you're ready to order computers for schools right now, we want to hear from you!
Calls us at (410) 579-4508 or click here to reach us online. Our consultants will be able to help you make the best make the best choices possible for your school's computers so that your students can get everything they need.
Go from Computer for Schools back to Our Blog
Go back to the DSR, Inc. HOMEPAGE