DSR, Inc. is proud to offer a computer repair service designed specifically for organizations like yours. We understand that computer problems are frustrating and impact your organization's productivity. To help limit this disruption, DSR offers repair solutions designed for organizations of all sizes.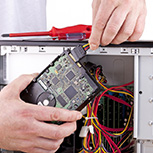 Standard Repair Service
Computers in need of repair may be dropped off at our Hanover location or shipped to us. There is no appointment necessary. DSR is able to service most machines under warranty, and also offers affordable out of warranty repair. We pride ourselves on timely repair, and also offer expedited services for emergency situations.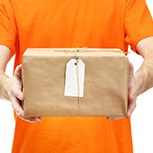 Courier Computer Repair Service
DSR offers a complimentary pick up and drop off computer repair service in both the Baltimore and Washington, DC metropolitan areas. Our staff will come directly to your organization and pick up any machines in need of repair. The machines will be brought to our location, where A+ certified technicians will efficiently repair the devices. The machines will then be returned to your location. It's that simple. DSR is able to perform in-warranty repair for most business machines, and our out of warranty repair rates are extremely competitive. Need your organization added to DSR's courier service? Contact our service department and we will be happy to make the necessary arrangements.
Proudly featuring the following brands