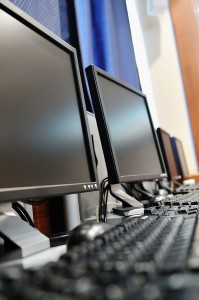 Are you looking for a way to restore your computer to factory settings in Maryland?
Computer users in Baltimore, Columbia, Annapolis, Ellicott City, and many other cities throughout the state use their computers for a wide variety of tasks, but there comes a time for many when they either want or need to restore a machine to the state it was in when it was turned on for the first time.
But did you know that there are steps that you should take before you commit to restoring your computer to its default state?
If you would like to know more about how you can restore your computer to factory settings in Maryland and what you should do before you start the process, then keep reading this page for more information.
[callout/]
Reasons to Restore to Factory Condition
Whether you have a desktop PC, or a laptop, the need to restore a computer to its original settings can come about due to a wide range of reasons.
Some of the reasons that you may find yourself wanting to conduct a restoration of your computer's settings can include:
Giving It to Someone Else – Suppose you are upgrading to a new computer and you want to sell your current machine.In many instances, you won't know the person to whom you're giving your existing computer, and that's all the reason you need to make sure that your computer is cleared of any information that you may have stored on it in the time that you've had it.The same can be said if you are passing the computer to a friend or family member.Before you do so, restoring the system to its default settings will ensure that person can use it as they see fit without having to work around custom settings that you may have put into place during the time you had it.
Clearing a Virus – Unfortunately, you may have come across a virus or some other type of malicious software that you can't seem to get rid of despite your best efforts.When this is the case, your only option may be to restore your computer to factory settings so that the virus is truly dealt with and you get your computer back.
You're Getting Rid of the Computer – If you are getting rid of the computer because the technology has reached the ceiling as far as hardware upgrades go, and you need something newer to meet your needs, then you may want to get rid of the computer outright.Making sure that your computer's system is restored to the manufacturer's settings is a good step to take in the process getting rid of your old technology and making sure that nothing is left to chance in the future.
Protecting Your Information
Regardless of your computer's brand, it pays to take steps to make sure you protect your information when you restore your computer to factory, but just what kind of information should you be protecting when you do this?
Important information that you can't do without – Some people use their computer for tasks related to things like personal finance and record keeping.Others use their computers to keep pictures and videos of family memories and other similar occasions.Regardless of the nature of the data, backing up that information regularly is practicing good computer maintenance. When you want to restore your computer to factory settings, it's practically a requirement.
Your browser information – It's likely that, over time, you've saved some of your favorite sites and settings to whatever browser you use to search the internet.
When restoring your computer to its default settings, you want to make sure that the information related to your browser settings is saved so that it can be transferred to a new machine and you can continue browsing the internet without losing a step.
Your information is important, and making sure that you can still access to it after your restore your computer to factory should take priority before you get started.
So, when you want to restore your computer and make sure your information is kept around, who can you trust to deliver the service you need?
IT Support with DSR Inc
If you want computer restoration that will take your computer back to its factory settings while you retain your information at the same time, then you need the help of the professionals here at DSR.
Our computer technicians offer a wide range of computer maintenance services so that you don't have to look very far to get what you need.
We know how important your computer is, which is why we offer services to people all over in Baltimore, Columbia, Annapolis, Ellicott City, and other cities in the state of Maryland.
Whether you need to restore your computer to factory, computer part repair, or anything else related to your computer, we're here to help.
Get In Touch With Us Today!
Whether you have questions, or you're ready to begin work right away, you can reach us by calling 410) 579-4508 or clicking here to contact us online.
We'll walk you through your computer issues, help determine if you need system recovery, and get you back to using your machine before you know it!
Go from Restore Your Computer Factory back to Our Blog
Go back to the DSR, Inc. HOMEPAGE