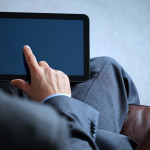 Looking for the best tablet for business use? Not sure which models or brands are right for the workplace?
You're not alone. With the rising popularity of tablet PCs in the consumer market, more and more businesses are looking to accommodate for the mobility demands of their employees.
But the options that work for consumers are not the best options for business. In fact, buying the wrong tablets can often lead to a decrease in employee productivity, and even face dangerous and costly IT security risks. Fortunately, the right tablets can do just the opposite.
In this article, we'll discuss the top 2 mistakes businesses make when buying mobile PC for their organization. Then, we'll show you how to avoid those mistakes in order to choose the best tablet for business use, functionality and increased productivity.
Jump to:
The Top 2 Mistakes Businesses Make When Buying Tablets
There are 2 common errors businesses make when choosing tablets for their people. These mistakes may seem convenient at the time, but can potentially damage company productivity and put internal data at risk.
Mistake #1 – Buying Consumer-Grade Tablets From Retail Stores
It's true, tablets from big retail outlets like Best Buy are cheaper than business-grade models.
But there's a reason for that. Consumer tablet PCs are highly inadequate for the demands of business, especially when it comes to the following features:
Specifications – Consumer tablets do not have the level of processing power that meet the needs of business, not to mention fewer options for connectivity. Consumer-grade models are simply not optimized for productivity and ease-of-use in the enterprise environment.
Security – Tablet PCs meant for consumers lack the integrated security features businesses need to maintain uptime and prevent data theft or loss. Businesses that buy subpar tablet models put their IT at risk.
Warranty Protection – Warranties on consumer products are often limited in time and scope. While this is fine for low risk at-home use, a comprehensive warranty you can count on matters when your business's productivity is on the line.
Mistake #2 – Letting Employees Bring Their Tablet Computers To Work
It seems like a logical cost-saving measure. If your employees want the level of mobility and convenience of their at-home tablet, why not let them bring it in?
But this is an especially dangerous mistake for three reasons:
Employees' consumer-grade machines fail to meet the demands of business, with less processing power and fewer options for connectivity. They are simply not the best tablets for business use, and can hamper your employees' productivity.
Personal machines are usually filled with personal apps and files which distract your employees from the activities of the office. Not to mention the memory and processing power these extra files take up.
Most importantly, employees connecting to your network from a personal computer could put your IT security in danger. Just like a child brings a cold home from school and shares it with the family, your employees' machines could bring viruses, malware, and other potential risks along with their devices.
So how can you choose the best tablet for business use that doesn't put your business's bottom line at risk? Even better, are there tablets that can actually improve your team's IT mobility, boost productivity and increase your profit-per-machine?
5 Features To Look For In A Business Tablet
To choose tablets that actually improve your business's IT architecture, you need to look for 5 key features in a mobile PC. The presence and quality of these necessary features should influence your buying decision:
Business-Grade Performance – To get the best results for your business, you need a computer that works as hard as you do. That's why you should seek out a Tablet PC model with exceptional processing power and higher-end hardware like solid state (SSD) hard drives.
Designed For Versatility – With workplaces becoming more mobile than ever, your team needs technology that is easy to use both at the desk, around the office, and even beyond. Choose tablets designed to be used on multiple surfaces like convertible or hybrid PCs.
Maximum Portability – Your employees should be able to rely on their devices wherever they go. The best tablets for business use combine a lightweight frame with surprising durability, so your team can leverage the freedom of mobile technology with confidence.
Foolproof Security Features – You can't afford to let IT threats impact your business's productivity due to poor security. Look for tablets that feature integrated security options like a Trusted Platform Module (TPM) chip and rest easy knowing your information is safe.
Extended Full-Coverage Warranty – Business computers are an important investment, so you want to make sure it lasts you a long time. Select tablets that offer extended warranties to ensure your technology is protected for years to come.
4 Excellent Tablets We Recommend For Business Use
Not all business tablets are created equal. Certain models stand out from the pack for their best-in-class performance, hardware quality, and all-around versatility. Here are four tablets we think are some of the best for your business users:
Fujitsu LIFEBOOK – This hybrid PC combines mobility, versatility and portability to maximize productivity for your organization. This model's intuitive Multitouch interface makes it an excellent model for educational institutions as well as business organizations.
Toshiba Portégé Z10t – This detachable Ultrabook delivers superior performance as a laptop or tablet PC. Its lightweight and durable frame combines with processing power to deliver a stunning and portable Windows 8 touchscreen experience. With its Digitizer and Pen, this model is perfect for professionals on the go.
Lenovo Thinkpad Helix – For those workplaces that require optimal versatility, the Helix is your ideal choice. Designed with four docking modes, this super-connective Ultrabook also includes advanced security features for maximum IT security and compliance.
HP ElitePad 900 G1 – Discover the mobile PC that delivers effortless mobility and maximum productivity. With a slim, elegant frame and numerous accessory options, this proven tablet is the consummate package for a savvy business professional who needs to get things done.
Need Help Selecting The Best Tablets For Your Business Users?
If you need help choosing the tablets that fit your organization's needs and budget, get in touch with DSR-Inc. For over 25 years, we've been helping businesses and organizations get the computer technology they need to stay on the cutting edge and achieve success.
We can help you pick the perfect mobile technology to support your employees, boost productivity and improve your bottom line. As an authorized dealer for some of the best business Tablet PCs on the market, we offer exclusive pricing reserved for our business and enterprise clientele.
DSR is authorized to provide warranty and out-of-warranty tablet repairs on all business-grade models we offer. For reliable, powerful computers with trusted & authorized support, DSR is your all-in-one provider.
Contact DSR Today
To save big on the best tablets for business use, contact DSR today. Just call 410-579-4508 or contact us online. You'll receive a free, no-obligation needs assessment and quote for your business's computer technology needs.
We look forward to showing you the value the right tablet PC technology can bring to your organization.
Go from Best Tablet For Business Use to the DSR-Inc Homepage