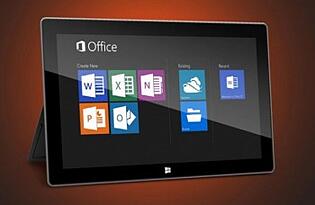 DSR is pleased announce it will soon offer licensing for Microsoft Office 2013 for both home and business users.
Want More Information?
[gravityform id="8" name="Join our Office 2013 Waiting List"]
BONUS: Get our exclusive Office 2013 preview, "New Features & Why They Matter" FREE when you join now!
Killer New Features in Microsoft Office 2013
The new version of Microsoft Office is optimized for today's cloud-based, multi-device computing environment. Whether you are using a PC, Tablet, or Smartphone, Office 2013's interface is fast, intuitive, and immersive.
Office 2013 offers a host of groundbreaking new features, including:
Fast and fluid experience with touch, pen, mouse & keyboard
Immersive touch-optimized Windows 8 apps
Optimized for the Cloud
Edit PDF content easily with PDF reflow
Excel: Flash fill, Recommended charts, Power View
Social: Multi-Party HD Video**, Skype Federation, Feeds and people card**
...and more!
Subscribe Here & Get Instant Access to our Office 2013 Version Comparison Chart»
Why You Need to Upgrade ASAP
If you are still running Office 2003 or Windows XP on your computer, it is critical for you to upgrade to Microsoft Office 2013 ASAP. Why?
After April 8, 2014, Microsoft will end support for these versions of Windows and Office. If you fail to upgrade, you will be at risk for several issues, including:
Security
Compatibility
Compliance
While these risks apply especially to businesses, home users will also experience serious compatibility issues if they do not upgrade before this date.
Join our Microsoft Office 2013 list today & avoid these risks»
Preview Microsoft Office 2013: New Features & Why They Matter

The new Office brings your familiar Office applications and documents, business-grade email, calendar, and video conferencing across nearly all your devices – from PCs to smartphones to tablets. You can get the new Office through Office 365 cloud subscription or Office on premises perpetual licenses. This document focuses on the benefits of Office on premises through Open Volume Licensing.