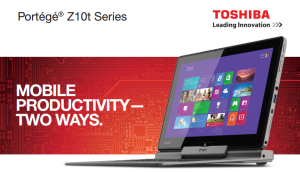 DSR-Inc is proud to announce the arrival of the Toshiba Portégé Z10t Detachable Ultrabook, the next generation of hybrid PC technology. This ultra-portable device for on-the-go professionals is proven to deliver incredible performance and accelerate your productivity.
So what features make this latest tablet stand out from the pack, and how can it benefit your organization? Read on to learn more, and discover how to get pricing & specs for this model exclusively from DSR-Inc.
Want to see pricing and specs for this model right now?
Enter your email here to receive a free info-sheet in your inbox, or call 410-579-4508 to speak with a technology expert.
3 Amazing Features of the Portégé Z10t
If you're a business owner or IT team leader, this tablet could be a game-changer for you. Here are just three of the features on this latest Toshiba model that deliver ROI and productivity for its users:
Effortless Efficiency - Let your users discover new levels of productivity thanks to swipe, glide, and tap features that make Windows 8 a breeze. Not to mention, anti-glare, fingerprint-proof glass means users can work comfortably and with confidence.

Lightning-Fast Performance - With the Portégé, your users can zoom through tasks at work faster than ever with Intel's latest Core i5 and i7 processor models, combined with a blazing fast 128 GB or 256 GB Solid State Drive.
An Ultimate Handwriting Experience - Capturing signatures, drawing, and note taking has never been easier on a tablet with the Portégé's advanced Digitizer and Pen.
Portégé Z10t for Business
How can this hybrid tablet-PC benefit your business?
One word: productivity. Here are three ways the Portégé's features can accelerate your success:
Maximize Employee Efficiency & Speed - Powerful processing capabilities combine with an intuitive interface to allow your workers to quickly get the job done, without waiting for their machine to catch up.
Travel Easy With Powerful Tech - Ultraslim, lightweight, and stylish yet durable, this device is the perfect machine for the savvy traveling businessperson to bring on the road without breaking a sweat.
Write, Draw, & Close Business With Ease - The advanced Digitizer & Pen means a paperless future is possible. Save space in your briefcase while you create, annotate, and collect customer signatures all in one device.
Portégé Z10t for Schools
How can schools improve engage students and improve outcomes with the Portégé? Here are just three ways this device can make a difference in your students' education:
Teach Anything, Anywhere - With the power to instantly become either a laptop or tablet, teachers can teach and students can learn not just at their desks, but also walking around (and even outside) the classroom environment.
Make Learning Interactive & Fun - The intuitive tablet touchscreen interface means students have even more opportunities to tap, swipe, play, and learn. And with the Ultrabook Pen & Digitizer, students easily can draw, take notes in class, and sign their work.

Simplify Classroom Management - Windows 8 and SkyDrive Cloud Technology make it easy for students to collaborate & share their work, and for teachers to evaluate student engagement & performance.
Want More Info? Get It Now From DSR-Inc
For more info on the Toshiba Portégé Z10t Detachable Ultrabook, click here to get specifications & pricing sent straight to your inbox.
Have other questions about your computer technology? We're here to help! Call 410-579-4508 today for a free consultation, or click here to complete our consultation request form.