HANOVER, Maryland - (10/22/2012) - DSR Computer Technology Specialists, announced today that it will offer a new category of customized, ultra-responsive mobile computing systems inspired by Intel. These Ultrabook™ devices will enable DSR to deliver a powerful combination of built-in security and intelligent performance in a sleek form factor.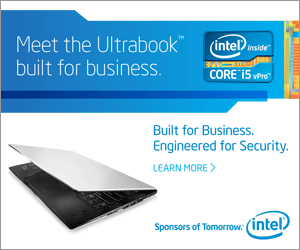 Less than an inch thick, an Ultrabook wakes up in a flash and runs for hours—perfect for the most seasoned travelers. Its low power consumption and solid state drive enable cool, quiet operation for at least five hours of extended productivity. At the heart of every business Ultrabook is the 3rd generation Intel® Core™ vPro™ processor.1 The security and manageability features of Intel® vPro™ technology2will enable DSR the Computer Technology Specialists to help clients safeguard sensitive data and user identities, repel threats, protect and secure lost or stolen devices, and manage their IT assets cost-effectively.
"DSR has always been relentlessly focused on helping customers find the technology solutions that are a perfect fit for their unique business needs. DSR takes you to the high-end of computer & technology performance - with the a solution that's built just for you."
"As Ultrabooks become a vital part of consumer and business computer solutions, it's a clear fit for leading computer & technology providers, like DSR, to offer the leading computer products in this emerging market," said Dan Hogan of DSR, Inc.
Ultrabook devices differ from typical mobile PCs, offering a richer computing experience with new levels of functionality designed for the business user:
Great performance—Ultrabook devices are powered by 3rd generation Intel® Core™ processors offering smart performance, with Intel® Turbo Boost Technology 2.0 for a burst of speed when it's needed.
Portability and style—Sleek, attractive devices come with a full keyboard in an easy-to-carry design.
Wireless content sharing—Users can experience presentations, movies, photos, and more on a big screen with Intel® Wireless Display, offering up to 1080p resolution.
Faster responsiveness—Resuming from hibernation in less than seven seconds, Ultrabook devices load applications in a snap.
More security and manageability—Built-in security features such as Intel® Anti-Theft Technology3 help ensure content is safe, disabling the device if it is lost or stolen. And, remote, automated manageability enables IT personnel or remote service providers to configure, diagnose, isolate, and repair Ultrabooks—even if unresponsive.
» » Contact DSR online, or call us at 410-579-4508, to learn how a sleek, secure, business-class Ultrabook inspired by Intel can take you to a whole new level of high performance!
DSR, Inc. is an industry leader in business to business computer solutions, including computer repair, hardware wholesale and networking solutions. Contact DSR, Inc. today for all of your business technology needs.
# # #
No computer system can provide absolute security under all conditions. Built-in security features available on select Intel® Core™ processors may require additional software, hardware, services, and/or an Internet connection. Results may vary depending upon configuration. Consult your PC manufacturer for more details.
Intel® vPro™ technology is sophisticated and requires setup and configuration. Availability of features and results will depend upon the setup and configuration of your hardware, software and IT environment. To learn more about the breadth of security features, visit http://www.intel.com/technology/vpro/.
No system can provide absolute security under all conditions. Requires an enabled chipset, BIOS, firmware and software, and a subscription with a capable service provider. Consult your system manufacturer and service provider for availability and functionality. Intel assumes no liability for lost or stolen data and/or systems or any other damages resulting thereof. For more information, visit http://www.intel.com/go/anti-theft.
© 2012, Intel Corporation. All rights reserved. Intel, the Intel logo, Intel Core, Ultrabook and Intel vPro are trademarks of Intel Corporation in the U.S. and/or other countries. *Other names and brands may be claimed as the property of others.