What to Look for from Small Business Computer Repair
Maryland | Baltimore | Columbia | Annapolis | Ellicott City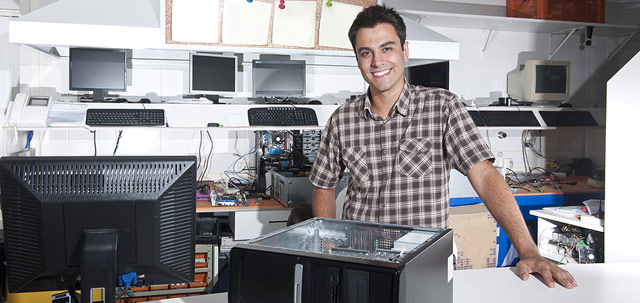 If you need small business computer repair in Maryland then, like many other companies in cities like Baltimore, Columbia, Annapolis, and other places throughout the state, your company maintains its competitive edge thanks in part to the technology it uses.
That's why having a problem addressed quickly is so paramount to your continuing operations.
But then comes the task of finding a computer repair service that will take care of all of your needs so you can get back to business.
If you aren't sure about how go about getting the service you need, then don't worry. We're here to help.
Keep reading this page to learn more about small business computer repair in Maryland and you'll find out just how you can keep your company moving forward by having everything you need.
What's the Source of Your Problem?
Computers are capable of doing many things, so it makes sense that the architecture making up many business desktops and laptops could see a number of different problems that keep them from working as intended.
But just what are some of those problems?
Faulty Hardware – In order for you to get the most use out of your computers, each of its components have to work together. When a problem occurs with one, there's a chance that it could affect others.This is especially true of the motherboard, one the computer's most important components, but problems can occur with other parts, like the hard drive and RAM, as well.For some people, pinpointing problems to these specific components can be a difficult task, never mind fixing them. When that's the case, it pays to consult someone who has the expertise to identify and correct the problem as quickly as possible.
Malicious Software – You can't go long without hearing about viruses, adware, and other forms of malicious software that infiltrate your computer and do things like steal important information.These programs can come from many different sources and are designed to do a number of different things, none of which are good. That's why you want to have them removedas quickly as possible in order to keep your data safe.This aspect of small business computer repair is an important one because it allows you to carry out your business operations in confidence and without worry that information will fall into the wrong hands.
These two general areas are where the majority of computer problems originate, so you can be sure that your troubles stem from them.
And once you do find an issue that you can't fix yourself, how should you deal with it?
What to Look for From Business Computer Repair
Computer repair is an involved process and something that takes a lot of expertise in order to do well, so you want to make sure the person handling your repairs is able to provide strong answers to questions like:
What kind of experience do you have? – No matter what kind of repair you need, experience is everything.When it comes to small business computer repair, the people that you hire should have experience with a wide variety of brandsthat businesses all over the area use.This ensures that any issues you encounter will be taken care of as quickly as possible so that you won't lose any productivity
Can you provide a guarantee? – Good computer repair will make sure that your problem goes away and stays away.Any work that gets done on your computer should be backed by an assurance that covers that work and keeps you satisfied after you've taken your equipment back.
How versatile are you? – In some instances of small business computer repair, it simply isn't feasible for you to gather up all of faulty equipment and bring it in.When that's the case, you want a service that will come to your place of business and carry out the work there.This will make the process of getting your business back in order that much easier, so look for a company willing to work with you in whatever way possible.
Where to Go for Computer Repair You Can Trust
When you're looking through computer repair business names, know that DSR Inc is the one that can provide you with the kind of small business computer repair that can keep your company going.
We provide a wide range of services for small businesses that goes beyond repair. So if you need something fixed, or you need networking to make sure everyone in your office can collaborate as they need to, we can help.
Since 1986, we have been serving companies in cities like Baltimore, Columbia, Annapolis, Ellicott City, and others all over Maryland with small business computer repair, and now it's time for us to help you too.
Whether you can come to us, or we need to come to you, no small business computer repair service can help you quite like DSR Inc.
Call us today by picking up your phone and dialing (410) 579-4508 or clicking here to contact us online.
We're here to help, whatever you might need!
Go from Small Business Computer Repair Shops back to the Blog
Go back to the DSR, Inc. HOMEPAGE