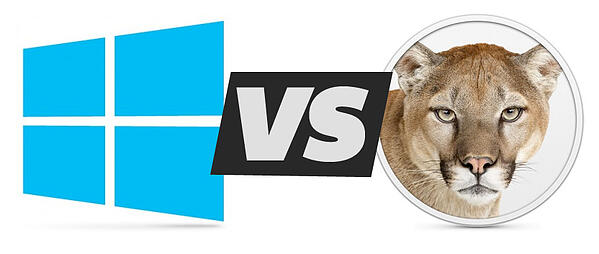 "Windows 8 vs. Mountain Lion OS X: which should I choose?"
This question is one you may have given a lot of thought to if you're in the market for a new computer.
With all of the different features that are out there, it can be a daunting to determine which one is best to buy for your needs.
But don't worry, because that is exactly what this article is here for.
Continue reading to learn more about Windows 8 vs. Mountain Lion OS X and which of the two operating systems is right for your needs.
Have a question or problem with your computer technology?
Then pick up your phone and call us at 410-579-4508.
You can also contact us by clicking here and one of our representatives will be in touch
Battle of the Operating Systems: What Do These Options Bring to the Table?
Mountain Lion OS X and Windows 8 are the newest offerings from Apple and Microsoft. Each operating system brings new features to personal computing in an attempt to distinguish itself from its competitor.
Here are some of the major features of the two options and what each one offers:
What is the Interface Like?
Over the past few years, the use of mobile devices for computing has risen, so it's no surprise that the latest generation of desktop operating systems take cues from their mobile counterparts.
The Windows 8 interface features large tiles that give you access to your applications via touch, much like you would find on a smart phone.
Mountain Lion follows suit. Its interface mimics what you find on Apple's mobile devices like the iPhone. This allows you to manipulate applications in a way with which you may already be familiar on your mobile device.
Which one is better for me?: In this respect, the answer will most depend on what sort of mobile device you are more familiar with. Users of any of Apple's devices will have no trouble adjusting to Mountain Lion's interface.
What Are My Storage Options? How Much Can I Get?
When talking about Windows 8 vs. Mountain Lion OS X, it's important to discuss storage capabilities and how you can retrieve files when needed.
Now, more than ever before, cloud technology is something that computer users care about thanks to its convenience and the ability to save files in case of a hard drive failure.
Mountain Lion's iCloud service saves things like contacts, bookmarks, and messages. It also makes downloaded applications available across all of your Apple devices.
Windows 8 takes storage a step further by not only saving contacts, bookmarks, and messages, but files as well. This all done through Microsoft's SkyDrive, which allows you to grab a file from any PC running the software, regardless of whether or not it has been uploaded to online storage.
Which one is better for me?: If you don't have much of a need for file transferring between machines, the Mountain Lion's cloud features may be adequate. However, users who want more versatility might better benefit from Windows 8 with SkyDrive.
What Applications Are Available?
When considering Windows 8 vs. Mountain Lion OS X, decide on the range of options for applications you'd like to have. Right now, the Apple simply has more.
Windows 8 users have a fair number of options and future updates are sure to bring more in an attempt to catch up to Apple's lead. But the simple fact is that Apple has a wider range for its Mac computers at the moment.
One advantage Microsoft holds in this area is that it is a little more relaxed in who is allowed to provide apps to users. This means that Windows 8 users could potentially see offerings that wouldn't appear in Apple's store.
Which one is better for me?: This may largely tie into your personal preference and your willingness to wait for Microsoft to catch up with Apple. While Microsoft doesn't have as many apps as Apple does right now, you can be sure they're going to try to correct that over time.
On the other hand, Apple's wider range of options means that you will be much more likely to find what you're looking for.
Windows 8 vs. Mountain Lion OS X: The Verdict
Because the two operating systems offer completely different experiences and are designed for different users, it can't realistically be said that one is better than the other.
In order to make the right decision, take the discussed features into account and weigh them against how you plan on using your machine. That will give you an idea as to which operating system is best for you.
Skilled Professionals to Help with Your Computer Needs
Call us today at (410) 579-4508 or reach us online right here for the best repair, upgrade, and data backup support you can find.
Here at DSR Inc, we know exactly what it takes to get the perfect machine for your needs. This means that, in addition to the services mentioned above, we can help you determine your needs and make recommendations for what should buy.
Our IT services are available all over Maryland, so contact us today and let us know what we can do for you.
Go back to the DSR Inc. Homepage