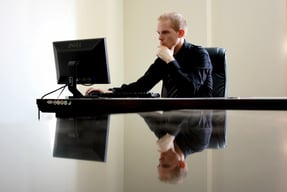 Running a small business is hard work, and sometimes managing your company's technology needs can seem like a full time job by itself. If you've ever felt overwhelmed by managing your business network, it may be time to consider investing in a network service agreement.


---
So what is a Network Service Agreement, you may ask?
Great question. From full service network providers who own and manage your equipment, to on-demand network service engineers who can be contracted to fix problems as they occur, there's no shortage of Baltimore networking solutions. At DSR, we are proud to offer custom network service plans that are designed specifically for your business. They can be as robust or simple as your business requires. For instance, some of our clients have agreements for monthly network maintenance services. Others prefer to simply purchase a discounted block of networking hours and use our engineers as needed. Regardless of your needs and budget, we can design a network service agreement that works for your business.
So, without further ado, here are 5 signs you should invest in a Network Service Agreement for your small business:
1. You have incurred long wait times or hefty emergency fees when resolving sudden network issues
When a network issue comes up and is impacting your business functions, you need help and you need it fast. If your first call to a network service provider comes in the middle of a crisis, you may find yourself at the bottom of a client queue, waiting for a resolution while your productivity suffers. Or worse, you may have to incur significant emergency fees to get up and running quickly. If you have an existing service agreement with a network provider like DSR, you know you can count on priority service within a pre-agreed upon time frame—at no extra charge. Even better, since we know your network, some problems can be fixed remotely in a matter of minutes. You'll be back to work before you know it!
2. Your staff complain that technology issues are limiting their productivity
For most small businesses, it simply doesn't make sense to keep a dedicated IT manager on staff. Still, it can bet tempting to try to manage your network in house. Maybe Bob in sales is particularly tech savvy and has been able to troubleshoot the occasional network issue. Awesome! But when fixing the printer starts keeping Bob from meeting his quota, it may be time to call in the professionals.
3. Your company is growing rapidly
There is nothing more exciting than seeing your start-up grow into a bustling enterprise! Congratulations! But is your computer network scaling alongside your business? If not, you could be in for a major network crisis. What was sufficient for 5 employees working out of a home office could now be a recipe for disaster! Are you vulnerable to business crippling hardware failures, network outages, or cyberattacks? Better to find out now then when an issue stops your growing business in its tracks!
4. You struggle to make technology decisions for your business
We get it! The choices for business computers, storage, and networking equipment are endless and deciding how to best spend your technology budget can be a daunting task. With a service agreement, you gain a team of trusted technology advisors. Waste no more time searching the black hole the of internet reviews. Let your network service provider offer you comprehensive recommendations based on years of experience working with businesses just like yours!
5. Technology hardware and software purchases are eating up your budget
Are technology purchases hurting your bottom line? Many network service providers, like DSR, are also value added technology resellers. As certified partners with most major hardware and software manufacturers, we have access to special pricing and volume discounts on the equipment you need. We love saving our clients' money!
Still not sure if a service agreement is right for your business?
We understand it is a big decision. That is why we happily offer comprehensive free network assessments. Get to know one of our certified network engineers and learn more about how a network service agreement might change your business for the better! Let us show you DSR is the best in Baltimore networking solutions.